KEY PROFILE
MILLING MACHINE
Now you will be able to make copies of the keys,
even if you don't have the right blank key.
Key copying process with X-KEY Terminator
Electronic scanning of the key profile from the original
Automatic milling of key profile in universal raw material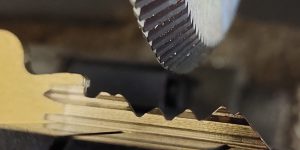 Final milling of the key on standard machines
Explore the features and advantages of our machine
Precision copying of keys up to 4.5mm thick and working part lengths up to 36mm (including long 7-pin keys).
Fully electronic, fast and accurate reading of the key profile in the vice with universal clamping of originals.
Intuitive control of the milling machine using a control panel with touch switches.
User interface available in many languages.
An automatic milling unit controlled by a microcontroller that guarantees speed and reliability while maintaining copy accuracy.
Windows-based computer program for communication with the machine via USB port, visualisation of scanned keys, saving, reading, editing and correcting profiles.
Wide range of cut and dimple keys
in thicknesses from 2.20 to 4.30 mm.
The cutter of European production allows to make up to 100 keys.